Every year, Mission Health loves to spread holiday cheer by providing our staff, residents, and friends with the best Mission Experience possible. We take pride in what we do and how we do it, infusing our CARES values into everything we do…and that includes the meals we share with those we love!
We know that it may still be difficult to gather around for the holidays this year—that's why we brought back our Mission Health Holiday Cookbook! We've encouraged people to write down either a new holiday recipe favorite or an old traditional family recipe to share with the Mission Health community this holiday season. We are happy to say that we were delightfully overwhelmed with how many submissions we've received this year and appreciative that so many people were willing to come together for the holidays and participate!
Are you looking to spice up your holiday dinner with some appetizers? Check out this recipe submission from Jennabelle Mosley! She says that stuffed mushrooms are a great idea to get the night started and are also convenient for small talk before the meal! "These are always a hit at my family holiday dinners! I always have to make extra." says Mosley.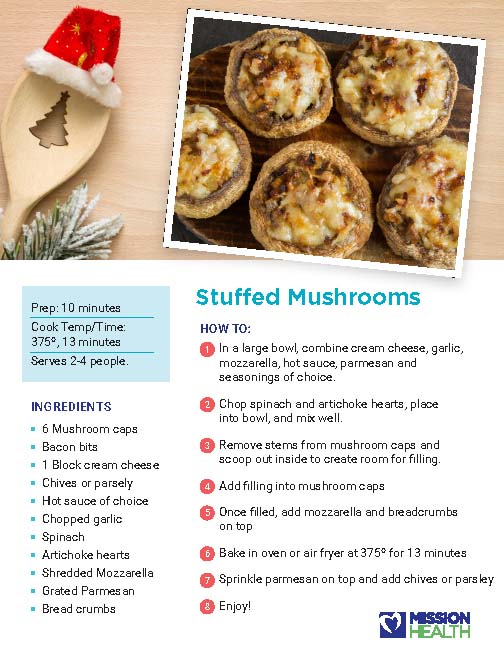 Cook with us and follow our TikTok page at @MissionHealth where we feature and recreate holiday recipes like this one for our Holiday Recipe Series!
Would you like your recipe to be featured in this year's Mission Health Cookbook and TikTok holiday series? Here's your chance! Submit all of your favorite recipes with instructions to Kirsten Harris at  Kharris@missionhealthcommunities.com by December 17th!  We want to encourage all friends and family to participate this holiday too! 
P.S. Pictures of your dish are appreciated but not required!